Sunday, September 15, 2019
14th Sunday After Pentecost

Exodus 32:7-14
Psalm 51:1-10
1 Timothy 1:12-17
Luke 15:1-10


Lay Assistant: Amy VIctor
Lector: MIa Victor
Ushers: Al Zielske and John Schabacker
Tellers: Jonathan Lee, Hans Telm, and Roy Francies
Altar Flowers: Bob and Shirley Fredrickson in honor of Andrea's birthday.
Coffee Host:


TECH TEAM ASSEMBLE!
All who have volunteered to be part of this wonderful and needed ministry please meet at the sound booth immediately after worship on September 15! We will walk through a few items and hopefully, it will all make sense! If you can't make it, please let Pastor Heidi know.
Thanks!
The new Trinity Bell Choir meets at 10:30 in the Sanctuary.
We would love to have you join us. Noe experience is necessary.
Sonshine Fundraiser at Sweet Tomatoes.





Come help support Sonshine and take a break from cooking at Sweet Tomatoes on Wednesday, September 18 from 5-7.


We have printed copies in the Narthex or you can show this electronic copy from your mobile device.

HIGH SCHOOL





SEPT 22:

ESCAPE ROOM--Pirates!

12:45pm-2:25pm
We will meet in Livermore at LIMITLESS ESCAPE GAMES for a Pirate Adventure like no other! We have a limited number of spaces (10), so please email me/call me/text me and let me know you are coming. COST: $20/person (Trinity will cover the rest of the cost). 51 Wright Brothers Ave c, Livermore, CA 94551
Mt Cross Women's Retreat
The Bible in 3 Days
September 20-22
Rev. Sharon Amundson will be leading us through, "The Bible in 3 Days" - we'll go all the way from Genesis to Revelation just over the weekend! Of course, there will still be time for good food and drinks, friends, relaxing, and enjoying the redwoods.
There is more information and a registration link on our website: www.mtcross.org/yearroundprogram
As always if you have questions don't hesitate to call or email the camp office. We're happy to help: mtcross@mtcross.org 831-336-5179
Dress A Girl is in need of dresses.
Happy almost-fall! Hope all is well and you are sewing! BECAUSE...we need dresses! We currently have 544 in inventory, with 200 promised to an organization to be taken this week, so we are really low for this time of year! And actually, we have NO size 14s, as we recently sent those all with a group to the Phillipines!

So, it's time to gear up and sew, sew, sew! We will need 2000 to send to our Christmas groups by the end of November. We typically send 1000 to the west coast regional Operation Christmas Child headquarters, where they check all of the Christmas boxes and use dresses to fill ones that might need a bit more; and 1000 to Cross Catholic's Box of Joy, another organization that does Christmas boxes. That means we have a lot of work to do this fall! If you've been part of Dress-a-Girl but haven't been sewing, now is a good time to re-engage! If you have friends who sew but aren't involved, ask them to do a few kits. If you have finished dresses, please bring them to a Sew-Fest OR drop them off at our house anytime (1557 Hollyhock, Livermore); or if you have some half-finished ones, please finish OR bring and we'll find someone to finish them for you. Any way you figure it...it's time to SEW! Feel free to stop by to pick up kits anytime (text or call 925-352-8447 and we'll be happy to set them out on our front bench for you!) THANK YOU FOR ALL YOU DO!!
Thanks to the ladies of Lafayette United Methodist group for 260 dresses, 210 of which will go with Susan Carter to Tanzania this month! Here's their group showing their dresses just before they received a blessing at their Sunday service! We'll hope for some pix from Susan in Tanzania too!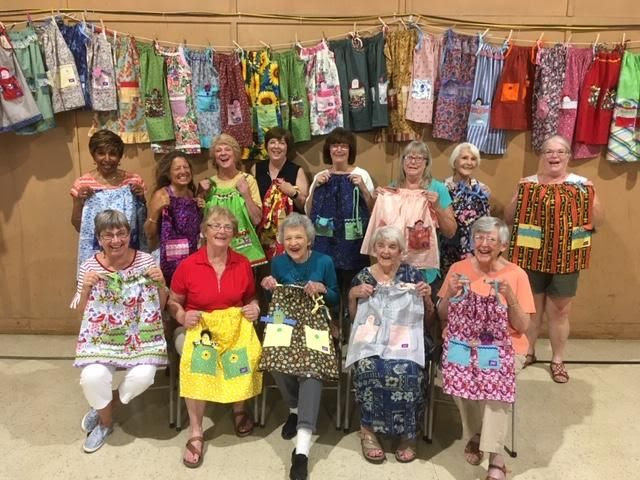 Next SEW-FEST
September 14, 9 am-3 pm
St. Michael's Hall
Corner of 3rd & Maple, Livermore
Hope to see you there!
We need you all!


TRINITY'S OWN PING PONG TOURNAMENT
What's more fun than playing ping pong during the summer? Having a tournament to show off your talents and passion for fun! Sign up to be a part of this fun event. This is an ongoing tournament; line up a date with one of the players. Questions? Speak with Dwight Stone or Toni Ann Gatzke.
There is still time to make a gift or a pledge toward our Capital Campaign for the Sonshine Preschool Building Project. The work of God's kingdom is plentiful, and we are responding with God's abundance for this special project;
Thank you to all who have given & pledged so far!
Please remember we still have our weekly and monthly ministries also continuing that need your support. Your regular weekly/monthly mission support stewardship gifts are needed and much appreciated for the blessings they bring.
Lake Tahoe South Shore, Nevada
3 Bedroom Worldmark Condo - For Rent, Sleeps 8
$1,500 and $500 of this will be donated to the Sonshine Building Project
Contact: George Withers 925-846-5550
November 2019
Check In Address:
180 Elks Point Road

Zephyr Cove , NV 89448
Occupancy Limit:
8
Arrive:
Saturday, November 2, 2019 (check-in time is 4:00 PM
Depart:
Friday, November 8, 2019 (check-out time is 12:00 PM)
Number of Night(s):
6 night(s)
Unit Size:
3 Bedroom
Unit Description:
Three Bedroom: King in master, queen in second, twins in third bedroom, queen murphy bed in living area. Maximum occupancy 8.

Lake Tahoe is a sublime mix, with big-city entertainment tucked into the beautiful snow-capped Sierra Mountains. It's where people go to rejuvenate their spirit, rediscover their family, relax in scenic splendor-and do a little gambling.
WorldMark South Shore is poised to take full advantage of Lake Tahoe's charms. Skiing, water skiing, mountain biking, kayaking, jeep adventures and cruises are all part of the fun. The resort is just a 10-minute walk from Nevada Beach State Park and a six-minute drive from the Gondola at Heavenly or the casinos in Stateline.

This is a great place; Carol and I have stayed here a few times. No Pets Allowed!!!!
Weekly Scripture Study Opportunities
Men's Bible Study– Thursday evening at 7 pm in the conference room. An informal discussion and review of the scripture readings for each Sunday's liturgy. Men of all ages are welcome.
Women of Trinity-- We meet the third Monday of each month at my home, Carol Withers at 4180 Jensen Street at 10:00 am. Each session stands alone. Please feel free to jump in and join us.
Women's Thursday Morning Bible Study--- We will resume September 12th at 9am to 10:30 am in the conference room, with a study on James: Faith/Works by Matt Chandler. All are welcome.

Tuesday Evening Women's Bible Study-- Please join us the 2nd and 4th Tues evenings 630-8pm in the Church Conference room. We will be beginning our fall study on Tues Sept 24th. We will be studying Priscilla Shires "Jonah-Navigating a Life Interrupted. Order your study guide on-line by the first meeting on the 24th.


Do you shop at Amazon on-line?
If you do, many of your purchases could benefit Trinity if you sign on at Amazon
Smile and designate Trinity Lutheran Church of Pleasanton as the charitable
organization you wish to support. Amazon will donate 0.5% of the price of your eligible Amazon Smile purchases to TLC whenever you shop on Amazon Smile. This is the same Amazon that you know; same products, same prices, and same service.
Support your church by starting your on-line shopping at
https://smile.amazon.com