Not Every Trout Fisherman is A Fly Fisherman.

Quite often when people think of trout fishing they automatically think that a fly rod is the only method of enjoying the resource. Obviously that is not true. For many people, spinners are the way to go. How many of us caught our first trout on a trusty Mepps spinner?

I fished with a good trout fisherman not long ago who easily out fished me with a silver and white dressed Mepps spinner. He would cast downstream and bring it back quickly hooking fish after fish. While it isn't hard for someone to out fish me no matter the method, it reminded me of the importance of spinners in trout fishing.

Not only that, we live in the epicenter of spin fishing with Mepps of Antigo just down the road. It wouldn't be far fetched to say that Mepps spinners have accounted for more fish caught of all species than any other lure.

The following history is provided from the Mepps Company Website:

"Todd Sheldon discovered the Mepps spinner in 1951. Owner of a successful tackle store in downtown Antigo, Wisconsin, he was having a bad day on Wisconsin's Wolf River. Determined to try something different, he tied on a small Mepps spinner that had been given to him by Frank Velek, a WWII GI who had returned from Europe two years earlier. Within two hours, he had creeled four trout weighing more than twelve pounds total.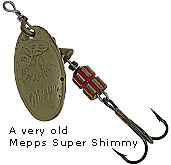 Todd Sheldon was hooked on and began selling Mepps spinners, but soon discovered he couldn't get enough. Velek knew a French woman who sent spinners to the sport shop in exchange for nylon stockings. However, the lures were selling faster than she was wearing out her stockings, so Todd began buying his lures directly from Meulnart's factory.

Soon, other fishermen were experiencing catches like the one Todd took from the Wolf. But, they were catching all kinds of fish, not just trout. As the Mepps reputation grew, so did sales. In 1956, Todd sold his store and formed Sheldons', Inc. to focus his attention on his growing import trade." By 1960, sales of Mepps spinners in the United States had topped half-a-million, and sales continued to grow rapidly. Todd set an annual sales goal of 3-million lures. "My Dad set that mark," Sheldons' President Mike Sheldon remembers, "because that was more than any lure had ever sold on this continent. Our sales went sailing right past that goal."

The company that started in a ten-foot-square room in the back of a small sports shop in Antigo, Wisconsin has, under the leadership of Todd and his sons Bill and Mike, become one of the most important players in the fishing tackle industry. Todd passed away in 1995. He was 81 years old. "

For that reason we lift up Mepps Spinners as our Fly of the Month. Just remember to pinch down the barbs on those treble hooks. It makes releasing a fish a lot easier.