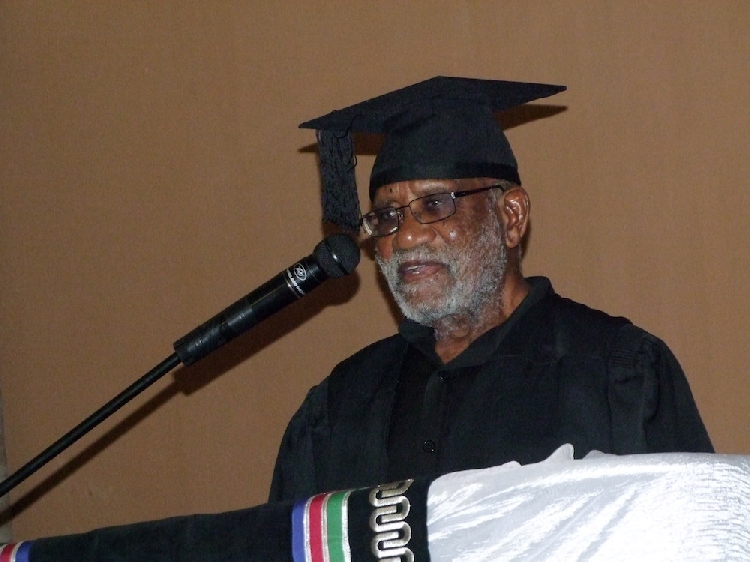 Herman Andimba Toivo ya Toivo: Not as well known internationally as Nelson Mandela, but his companion in prison and equally respected in his country Namibia and among all who knew him.
The Making the Road delegation was in Cape Town when news came of the death of Toivo ya Toivo, and on their visit to Namibia, the country as well as the family was in the midst of mourning. From Cape Town, Prexy wrote this note for the Making the Road Facebook page:
"They came no better and none more committed than Toivo. Another Southern African giant has gone and I know no better way to memorialize him than to intensify our struggling for a better dispensation for all...as Toivo always did. We used to always swap hats, Toivo and I -- a kind of ritual signaling our solidarity with one another's struggles. I will miss doing that but will commit to keep on swapping hats with Vicki, Toivo's wife and their two twins."
Read a tribute to Toivo ya Toivo from Gwen Lister of The Namibian newspaper.
---
Updates and asking for your continued support
Many thanks for your support for Making the Road in 2016, which enabled us to advance considerably this year in planning for travel seminars in both Southern Africa and in Cuba. We are part way through the summer, and Prexy is finishing up the Southern Africa seminar in Windhoek this week. But we continue to need your support, since making these seminars sustainable while ensuring that they are not limited to those who could pay a full rate like those for commercial tours, is still a struggle. As you know, Making the Road is a project for solidarity, and cannot only rely on market forces!
If you are able to contribute again this year, it would be much appreciated. You can donate by going to http://tinyurl.com/lutacontinua and choosing the designation for Making the Road. Or you can send a check, made out to the South Africa Development Fund and designated for Making the Road, to SADF, 555 Amory Street, Boston, MA 02130.
---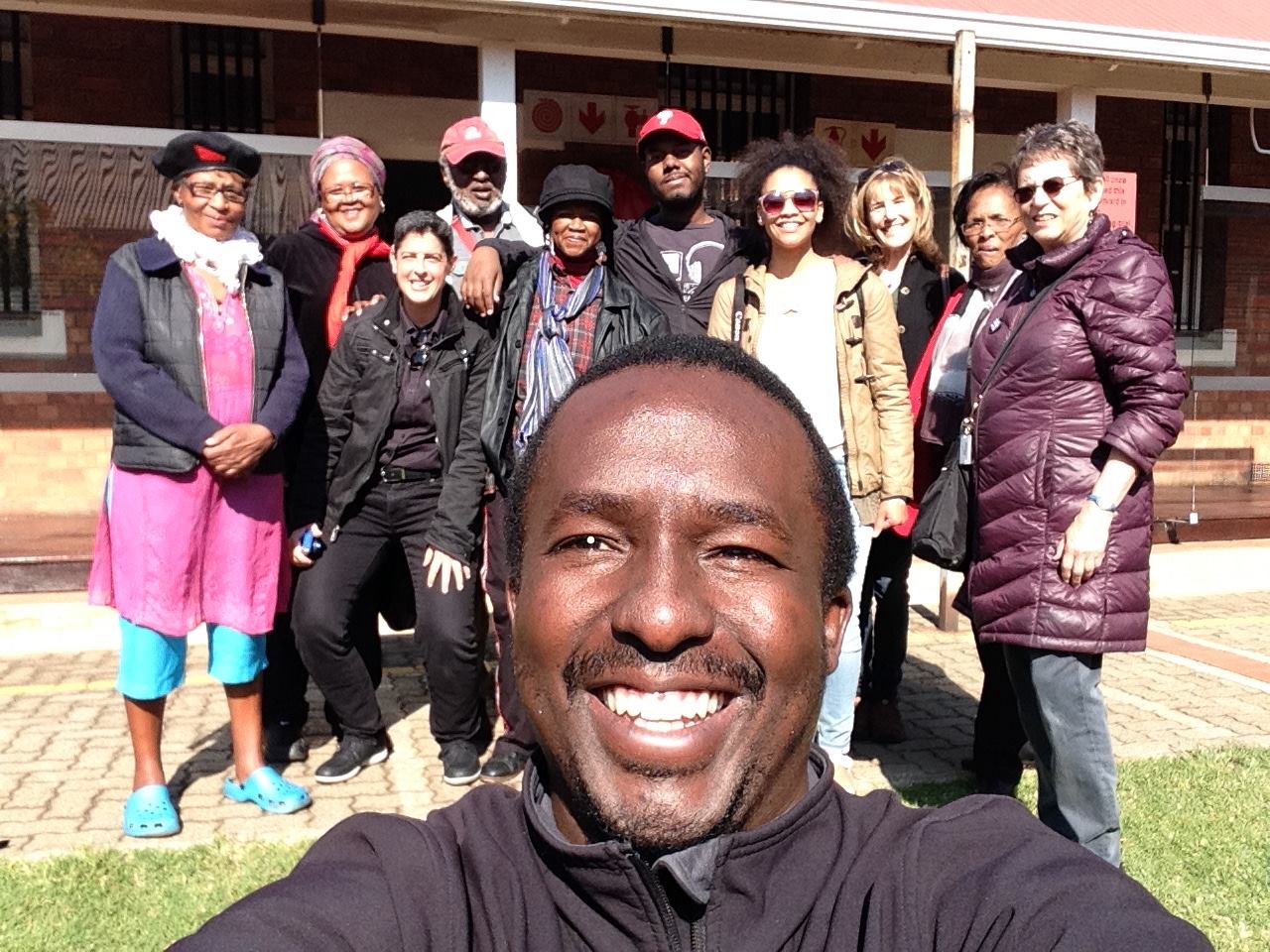 Selfie by tour coordinator/driver Jacob Chisvo, with the Making the Road delegation at the Women's Jail on Constitution Hill. Also pictured are Cecilie Palmer and several other former political prisoners, as well as Carrie Pratt, who planned the Johannesburg segment of the Making the Road seminar.
Chisvo posted on Facebook: "I feel like crying every time accounts of the events are told to us by some of the remaining survivors of the #4 political prison. They carry the #Scars of yesterday."
---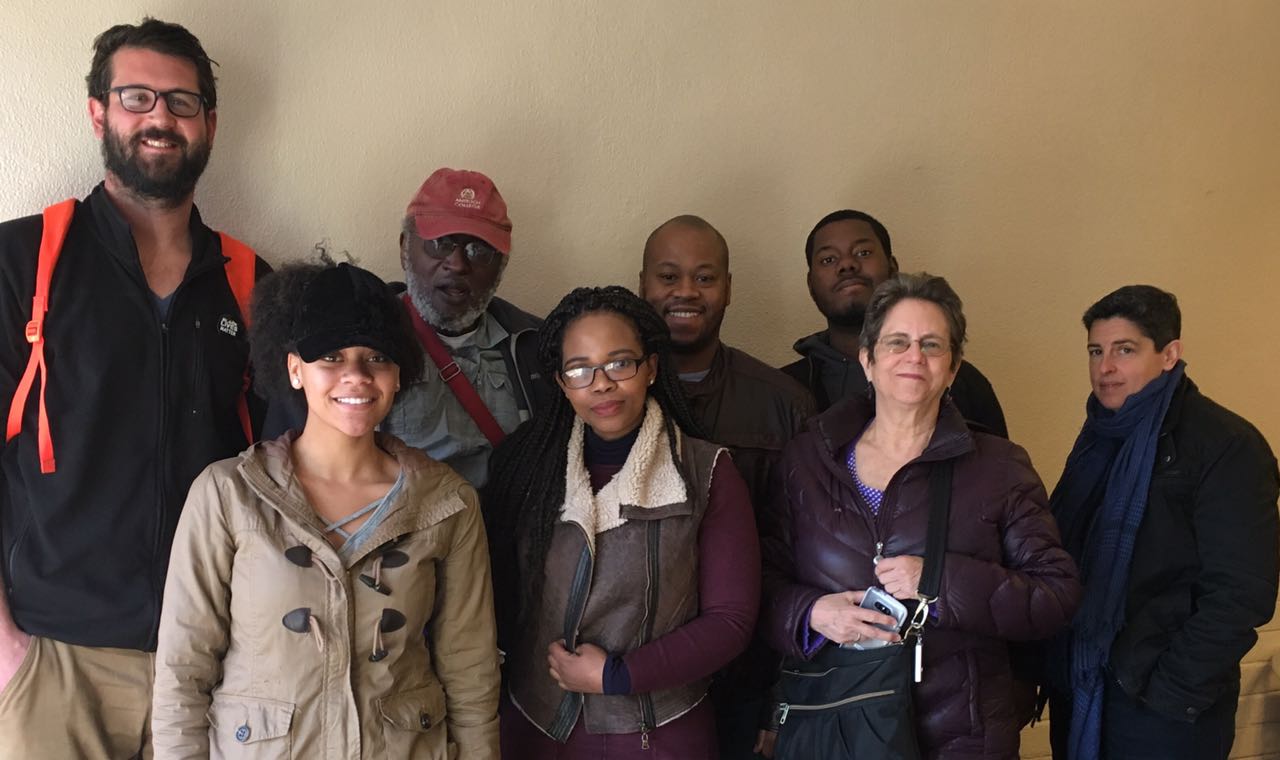 Discussing Marikana, workers' struggles and the film The Giant is Falling with Luke Sinwell and Khuselwa Dyantyi. Luke Sinwell (back-row on left) is the author of the 2016 book, The Spirit of Marikana: The Rise of Insurgent Trade Unionism in South Africa. Khuselwa Dyantyi (front-row) works at the Socio-Economic Rights Institute (SERI) as liaison to the 36 families of the deceased strikers represented by SERI before the Marikana Commission of Inquiry.
Prior to departure from South Africa, seminar participants watched and discussed the film Miners Shot Down, on the 2012 Marikana massacre. It is available on YouTube, and highly recommended to anyone who wants to undertand South Africa today.
---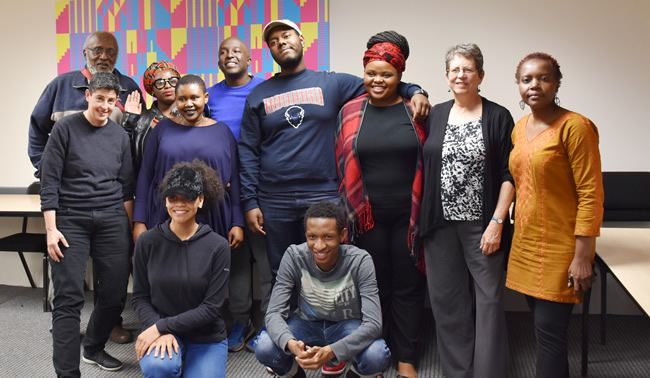 Making the Road delegation with student activists at the Centre for Human Rights, University of Pretoria. See the Centre's write-up of the visit.
---
About this email
This brief update and thanks come to you from Andrea Meza, Anita Plummer, and Bill Minter. All of us are helping out this year, both with this year's seminars and with building the framework for future Making the Road activities. Andrea, just graduated from Columbia College, is working part-time with Making the Road in Chicago, and will be one of the leaders of the Cuba Travel Seminar this August. Anita, at Howard University African Studies Department, helped organize the orientation for this year's Southern Africa Seminar.
Both Andrea and Anita were on last year's Southern Africa seminar. Bill hasn't been on any Making the Road trips with Prexy, but his paths have repeatedly crossed with Prexy's on journeys over the years since they first met in Dar es Salaam in 1968.
We look forward to keeping in touch with many of you as our paths intersect in the coming years of struggle for justice on both sides of the Atlantic.
A luta continua,
Andrea, Anita, and Bill
---
Please note. This address from which this email is sent is used for updates related to the Making the Road trips. For personal messages to Prexy, please continue to use his personal email: rozell.makingtheroad1@gmail.com.