Help us each day to stand for love, for healing, for the good, for the diverse unity of the Body of Christ and all creation, because we know this is what You desire, as Jesus prayed, that all may be one.

One of my staff members gave me a coffee cup as a gift for Christmas with that saying on it. Although I don't drink coffee, the cup works just fine for tea and it now sits on the edge of my desk. She knew I needed that reminder because to be honest, I've been struggling with keeping love for others front and center in my ministry. How do I have time for "loving them" when there are so many details, tasks, and administrative stuff that demands my attention? Quite frankly, accomplishing tasks is often easier than dealing with people, and relationships that are diverse, complex, challenging, and demanding.

That is the real reason I have struggled to "love them anyway." People, myself included, can be difficult. We don't always agree with one another. We don't even agree on what it means to proclaim and live out the gospel of Jesus Christ, and the role and responsibility of the church in today's society. Because Jesus embodied and proclaimed the reign of God where all are welcome, doesn't that call us to address ways in which people are excluded and how we participate in those systems? This is why we have made a commitment to address racism as a synod. Others argue that is getting involved in "politics" and we simply need to proclaim the truth that Jesus loves everyone. How expansive and inclusive is the grace of God? What about the place of the law? Don't there need to be limits and judgments?

To make it even more challenging, we don't always have these conversations, debates, disagreements in respectful loving ways. Because this is our faith, something we are passionate about, we can come across angry, judgmental, and not very loving toward one another. Even though, " . . . faith, hope, and love abide, these three; and the greatest of these is love." sometimes it is hard to see or experience that love, to even feel that love in my own heart.

Love them anyway is central to my call as bishop, but how do I do that?

By centering my call, my life, my very heart in the one who is love; by remembering that faith is ultimately about relationships and trusting the relationship that God has with me which always invites me out into relationship with others. I begin each morning by reading the daily devotion from Richard Rohr, one of my favorite authors. The theme of his devotions for 2022 is Nothing Stands Alone in which he asks, "What could happen if we embraced the idea of God as relationship – with ourselves, each other, and the world?" If I embraced the idea of God as relationship, rather than a set of doctrines, principles, even laws to be defended and maintained, would that not enable me to love them anyway ? Would that not give me the wisdom I need as I live out this call? And so my prayer for myself and for the entire synod as we begin a new year is the one shared by Richard Rohr in his daily devotions:

God, Lord of all creation, lover of life and of everything, please help us to love in our very small way what You love infinitely and everywhere. We thank You that we can offer just this one prayer and that will be more than enough because in reality every thing and every one is connected, and nothing stands alone. To pray for one part is really to pray for the whole, and so we do. Help us each day to stand for love, for healing, for the good, for the diverse unity of the Body of Christ and all creation, because we know this is what You desire, as Jesus prayed, that all may be one. We offer our prayer together with all the holy names of God, we offer our prayer together with Christ, our Lord. Amen.
Prayers
but those who wait for the Lord shall renew their strength,
they shall mount up with wings like eagles,
they shall run and not be weary,
they shall walk and not faint.
Isaiah 40:31
Renewing God,
We celebrate with the people of your church as Ben Fulton is ordained as Minister of Word and Sacrament, January 8, 2022. Be with and all those that gather at Salemsborg Lutheran Church, Smolan, KS. to welcome and bless him to your service.
We thank you for the gifts that Rev. Aimee Appell brings to the synod in her new role of Director of Evangelical Mission.
As we welcome this new year, bless us with peace. Fill our days with the light of Christ and lead us on our paths so that we may join your reign of justice and love in our communities and across the world.
Amen.
Once again the Epiphany season has been designated as a "Season of Global Awareness" in the
Central States Synod. Our Companion Synod Team is sharing devotions for the season. Much like the Magi that carried gifts and enlightenment to a foreign land, we invite you to consider the gifts that we share, both giving and receiving, with our companions synods.
2021 Annual Report to the Bishop forms available

All Ministers of Word and Sacrament and Ministers of Word and Service on the Central States roster are required to complete an Annual Report to the Bishop. Specific forms depend on call status (Under call from a congregation, On leave or disability, Retired, and Under call from synod council or ELCA church council) can be downloaded at:

Completed forms can be emailed to Bishop Candea

no later than February 15, 2022.

Parish Ministry Associates & Synod Authorized Ministers

Those serving as Parish Ministry Associates and Synod Authorized Ministers can find the forms for their annual report at:
Congregations looking for intentional renewal or transformation are invited to attend
Vital Congregations ReBOOT camp
Four sessions of an hour and a half each will be offered January 13 and 27 & February 3 and 17. Both afternoon and evening sessions will be offered and you are invited to choose the session that is most convenient for you that day. Topics for the sessions include
staying connected with changing communities,
deepening faith through practices,
identifying "let go" opportunities,
and celebrating well.
For more information, contact DEM Donna Simon ( dsimon@css-elca.org )
| | |
| --- | --- |
| | We have created an outline and invite you to include these fellow Central States Synod congregations and ministries in your Sunday prayer petitions. |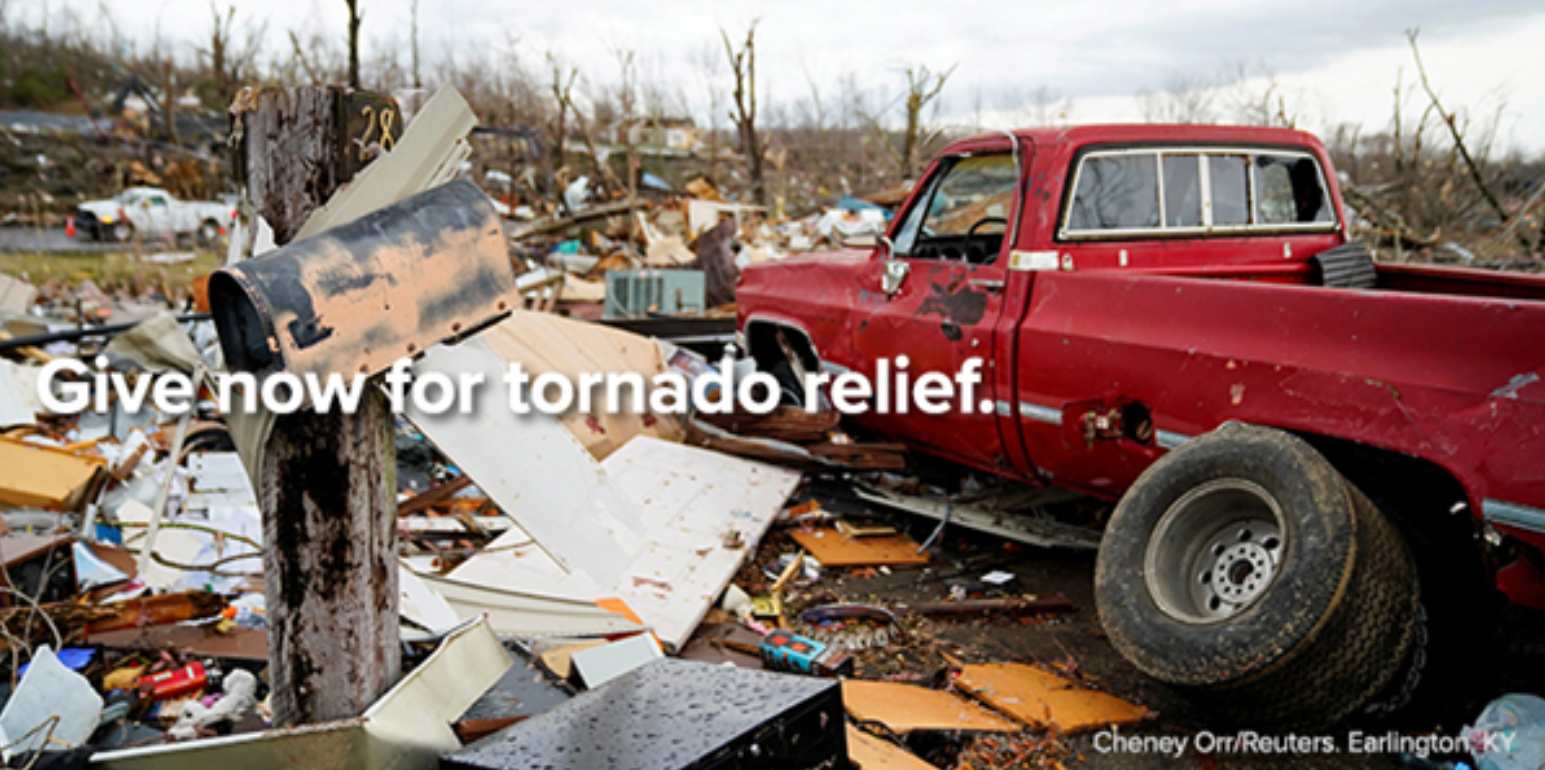 "By the tender mercy of our God, the dawn from on high will break upon us, to give light to those who sit in darkness and in the shadow of death, to guide our feet into the way of peace" (Luke 1:78-79).

On the night of Dec. 10 and early morning of Dec. 11, an outbreak of at least 30 tornadoes swept through six states. So far, 94 people are reported dead across five states, more than 80 of those in Kentucky. For those unaccounted for, search-and-rescue operations are underway. Homes and businesses were destroyed, and over 300,000 people were without electricity.

Lutheran Disaster Response is collaborating with the Indiana-Kentucky Synod and other partners in the area to assess the damage and develop an immediate and a long-term response plan. Your gifts to support these response efforts will empower our partners to meet survivors' immediate and long-term needs. Given the extent of the damage, recovery will take years as thousands of homes will need to be rebuilt or repaired. With your support, Lutheran Disaster Response can accompany survivors on the long road to recovery.

Your gifts to "U.S. Tornadoes" will be used in full (100%) to help people impacted by the tornadoes until the response is complete.

Additional Ways to Give
Checks or money orders can be sent to:
Lutheran Disaster Response
P.O. Box 1809
Merrifield, VA 22116-8009
Write "U.S. Tornadoes" on your check memo line.

Give by phone at 800-638-3522 (Monday-Friday, 8:00am-5:00pm CT) or online .
Epiphany Worship - ecumenical and online

presented by: Project Twelve

Start the year by wrapping up Christmas

and entering boldly into Epiphany.

Let us reflect on the joy and meaning of Christ's arrival.

Tomorrow - Thursday night at 7:00 pm Central

Click this link for the Epiphany Worship Service

and share the link
Statements of Intent Now Available
| | | | | | |
| --- | --- | --- | --- | --- | --- |
| | This form allows your congregation to express your planned support for 2022. | | This publication tells the story of mission support gifts in action. | | |
January 8 -

January 9 -

January 11 & 12 -

January 12 -

January 15
January 11 & 12 -

January 12 -

January 13 & 14

Synod Staff Planing

Vital Congregations Re-Boot Workshop
Copyright © 2022 Central States Synod, All rights reserved.

Changed your mind? You can unsubscribe at any time.